How to Downsize for Assisted Living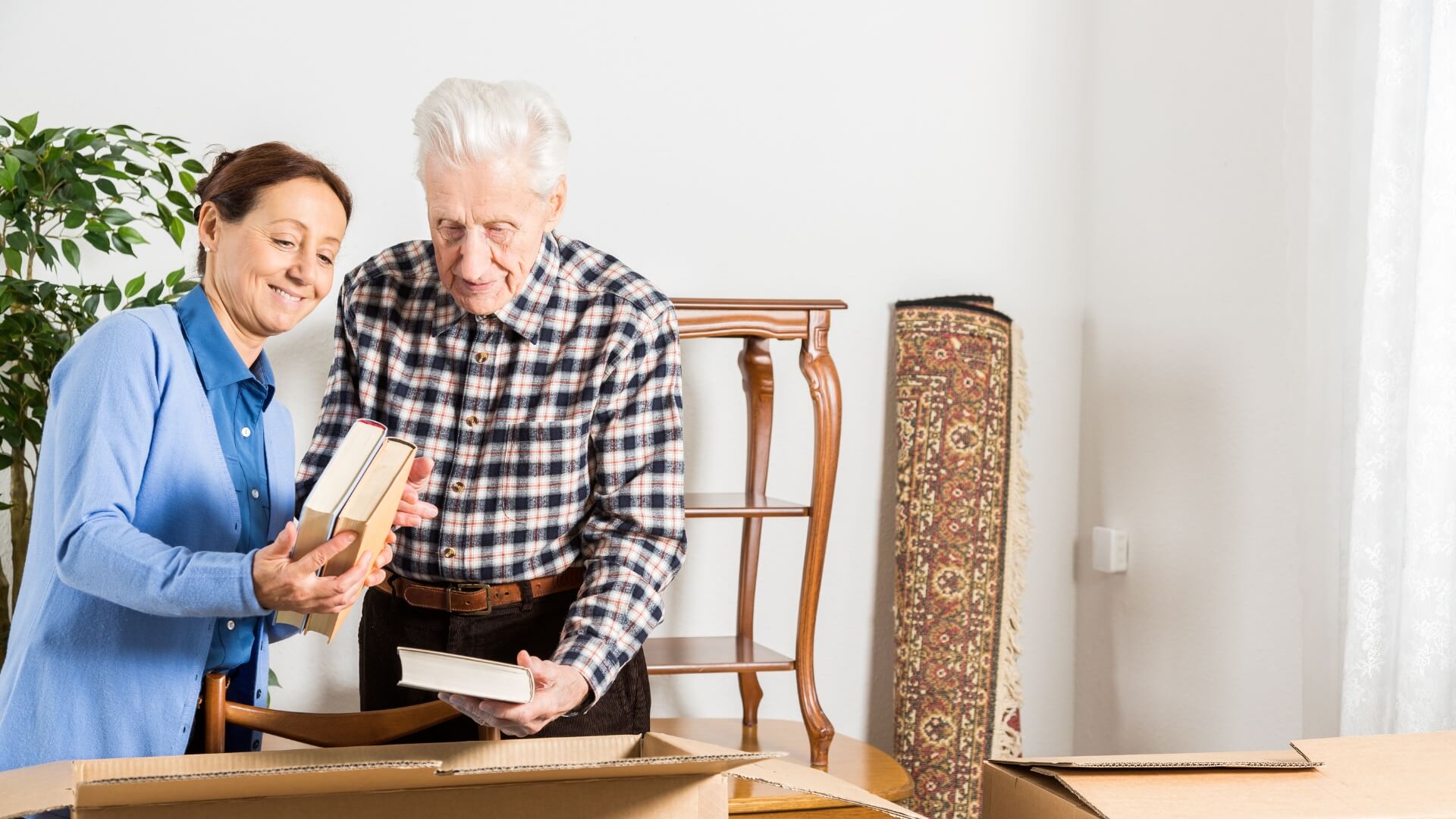 Moving into an assisted living facility can be an exciting and fulfilling transition for seniors. These communities offer a safe and supportive environment for elderly adults who require extra assistance in their daily lives. However, figuring out how to downsize can be a challenging process for many due to stress, anxiety, and emotional connections. To make the transition as smooth as possible, we'll provide practical guidance on downsizing for assisted living. 
Steps on How to Downsize
To help you navigate this important transition, we've put together a comprehensive guide on how to downsize for assisted living. Whether you're taking the first steps or need some helpful planning tips, this resource will give you the tools to make the most of the downsizing process. 
1. Assess Personal and Familial Belongings
The first step in downsizing is to evaluate all your possessions, which can be daunting for many. To make the moving process less intimidating, start by organizing your belongings into categories. This can include clothes, furniture, kitchen utensils, and other miscellaneous items. 
Once you've organized everything, go through each category, and decide what to keep, donate, sell, or discard. When deciding what to keep, consider the size of your new living space and the essentials you'll need. If you have sentimental attachments to certain items, consider taking photos or creating a memory book to preserve their significance. The key is to be honest with yourself about what you really need and what you can let go of. 
2. Plan Efficiently Used Space
Once you have decided what to keep, the next step is to plan how to best use the space in your new living environment. Assisted living facilities usually offer smaller living spaces, so maximizing storage and organizing essentials is vital. Explore the storage options available and choose a system that best suits your needs. 
When planning your new living space, consider optimizing it around your accessibility and comfort. Efficient space planning can result in a functional and comfortable layout that accommodates your needs and preferences. Begin by exploring your new living space and measuring the dimensions of each room. Then, decide on the placement of key items, such as furniture and appliances. 
Suggestions for maximizing storage and optimizing accessibility can include hanging shelves, using under-bed storage, or installing pull-out shelving. Finally, take advantage of space-saving furniture that can save space and make your new home feel more spacious. By planning, you can create a space that is both inviting and easy to navigate. 
3. Streamline Documents and Paperwork
Finally, another important aspect of downsizing is organizing your documents and paperwork. This can be a tedious task, but it's necessary to ensure that you have all the legal and financial documents you need in a safe and accessible place. 
Start by organizing all your documents and paperwork by category. This can include bank statements, medical records, and legal documents. Simplify them by shredding old statements, organizing electronic records, and digitizing any paper documents that you wish to keep. 
Create a system by which you can safely store and organize important documents. We recommend utilizing binders and folders, or even hiring a professional organizer, to help with this crucial task. Consider asking a trusted loved one to securely organize familial paperwork for easy, future-proof retrieval. 
We Provide Lincoln's Preferred Assisted Living
In conclusion, knowing how to downsize presents an opportunity for a fresh start and a simplified living environment. By taking the time to assess your belongings, plan your new space efficiently, and streamline your documents and paperwork, you can make the most of this transition. Downsizing may seem overwhelming, but by breaking it down into manageable steps, you can handle this important transition with confidence and ease. 
If you're downsizing for assisted living and need a suitable arrangement for your loved one, we're here to help. Contact us with any questions or concerns about our memory care or assisted living communities. Our mission is to enhance the lives of our residents and their families. Reach out to discuss your options and explore how our communities can support your loved ones' needs.