Senior Nutrition at The Waterford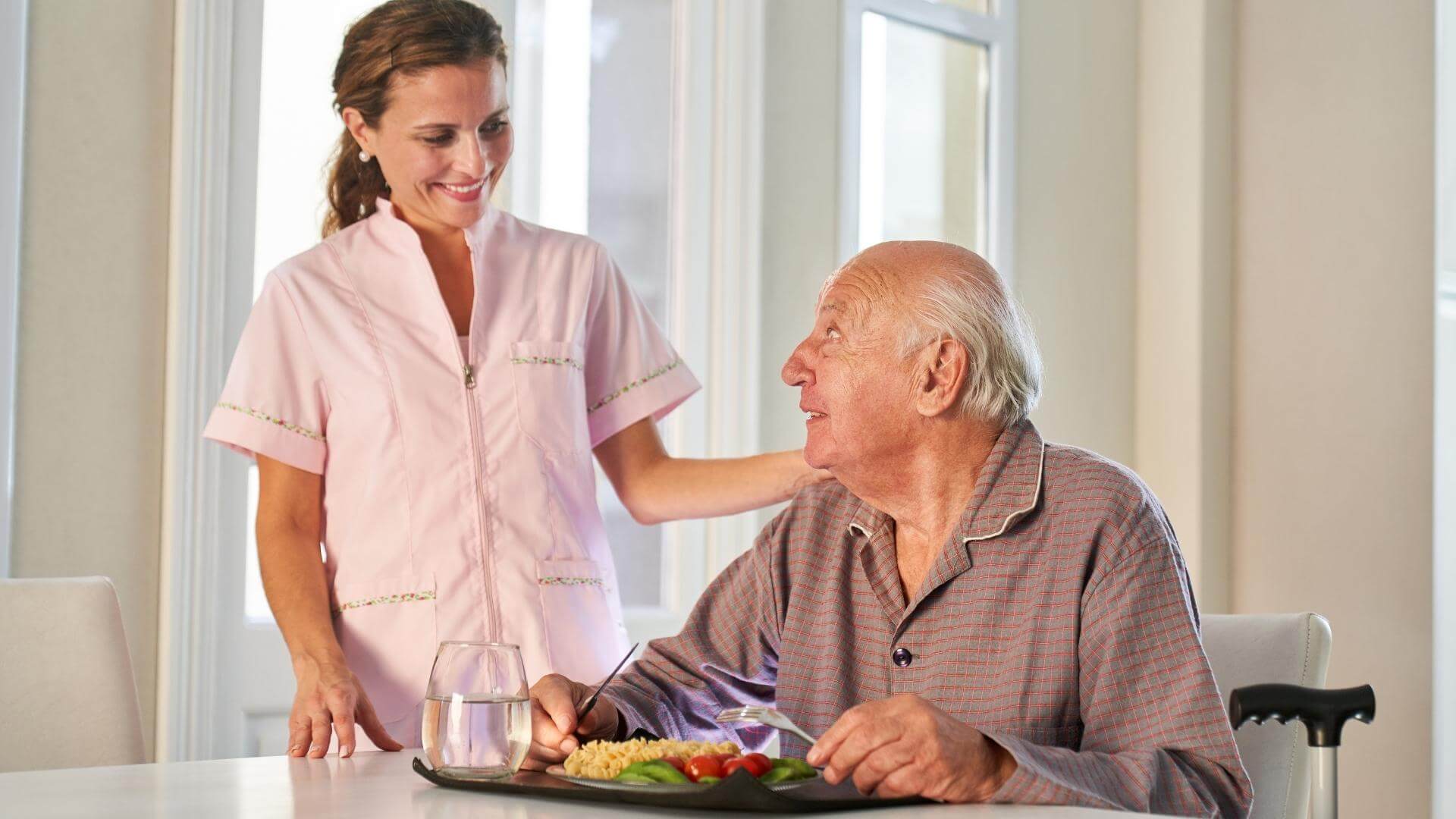 Supporting proper senior nutrition is one of our top priorities. That's why we provide our residents with three home-cooked meals every single day. All our residents have many healthy options available for breakfast, lunch, snacks, and dinner. Plus, we also offer carefully prepared meals to accommodate various special diets and preferences. Let's explore why good senior nutrition is so important, and what we do to support it. 
Senior Nutrition
Many seniors struggle with proper nutrition as they age. This is worrisome because poor nutrition can lead to severe health issues down the road. Whether they forget to cook, often skip meals, or simply wrestle with groceries, older adults can sometimes put their health and wellbeing at risk. 
Cooking and cleaning are a lot of work for one person. Though meal preparation is one of the most essential family activities, it can quickly lose its appeal for independent elders. Add in issues with chewing and a diminished sense of smell or taste, and it's no surprise why a lack of nutrition is so common with many older adults. 
Seniors need a lot of vitamins and minerals to maintain optimum health. For instance, vitamin D is an essential nutrient for everyone, especially the elderly. It's mainly acquired from a balanced diet and direct sunlight. Vitamin D plays critical roles throughout the body by fighting infections, maintaining brain health, and supporting a healthy metabolism. Unfortunately, many seniors often stay indoors and rarely consume enough vitamin-rich foods to meet their recommended daily intake.  
Seniors are at risk of vitamin D deficiency, which associates with several severe conditions including cancer, autoimmune disorders, and cardiovascular disease. Research even suggests that vitamin D supplementation can improve cognition in patients with dementia. That's why we always provide our residents with healthy, homemade meals rich in vitamin D that include beef, fish, eggs, and dairy. 
Calcium is an important mineral for bone health. Postmenopausal women, in particular, are at risk of bone loss, fractures, and osteoporosis. This is why we ensure our residents can receive adequate dietary calcium from their daily meals. Dairy products often have plenty of calcium, as do green leafy vegetables like spinach, kale, and broccoli. These options are staples in all our communities. 
Family-Like Dining 
We treat all of our residents like family members. Our staff members aim to build relationships, encourage socialization, and get to know everyone by name. We put our residents first, and that means always making mealtimes feel special. 
It's important for our residents to feel at home. We want to give them a variety of choices while supporting consistent daily routines. No home setting is complete without a family gathering and a shared meal, which is why we encourage residents to dine together as much as possible. 
Residents can wake up, get ready, and eat breakfast whenever they'd like. We provide them with plenty of options including fresh fruit, cereal, oatmeal, and even home-cooked omelets made to order. Residents also enjoy beverages ranging from tea and coffee to milk and fruit juice, and snacks are always available throughout the day. 
Our communities are on a five-week menu rotation for lunch and dinner. This menu also changes seasonally to feature popular holiday meals. Residents are allowed to choose either of two options for lunch and dinner, each served with a vegetable, side dish, and main entrée. Special accommodation is always made for diabetic and low sodium dietary restrictions. 
We take senior nutrition seriously in our communities. However, we also value the independence of all our residents. Striking a balance between options and obligations encourages our staff to have grace, patience, and compassion. If you have questions about how we support senior nutrition, please contact us for more information. We'd be honored to explain our process in greater detail.