Living At Home Vs Assisted Living
Transitioning into an assisted living or memory care community can be scary. Deciding that living alone isn't safe or convenient anymore for you or your loved one is just as difficult as deciding when living alone is the best option. Here at The Waterford, we're here to help you through these changing times. We're going to talk about the benefits and disadvantages of living alone or in assisted living communities, and how to know when the best time to decide between the two is.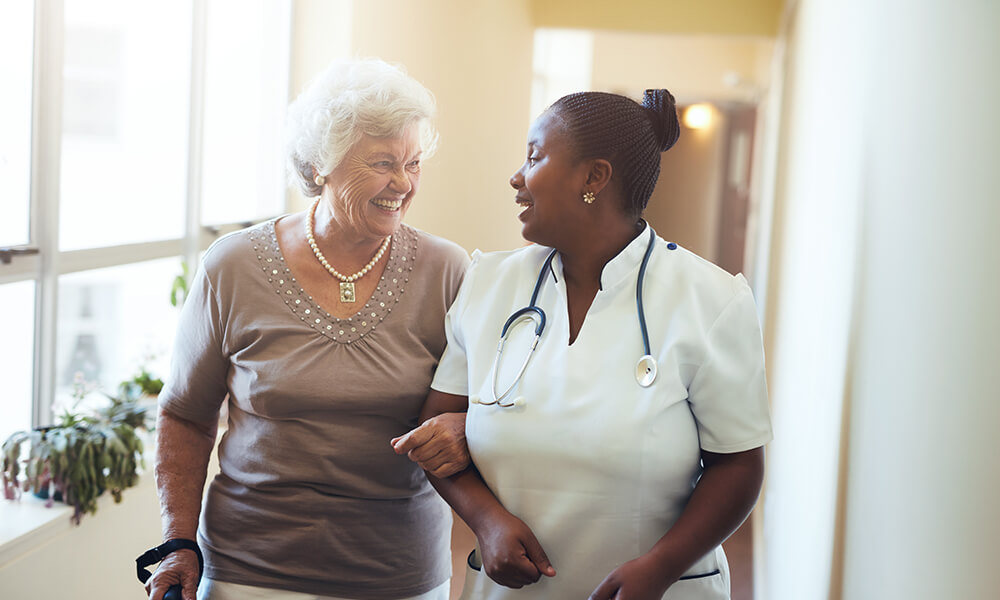 Benefits of living at home
It's no secret that living at home is free, while moving into an assisted living community will cost more per month or year. By opting to live at home, seniors can save money they would be spending on their community.
Maintain freedom and comfort in your home
By living at home, seniors can adhere to their own schedule, policies, and standards for comfort. They won't have to adjust their current state of living, and can spend their time in the exact manner as they always have.
You can hire the necessary services
If living alone becomes too difficult, seniors can still hire the necessary help they need. Whether that be in-home care, a maid, or a chef to meal-prep once a week.
Disadvantages of living at home
Less independence, difficulty getting around
While one advantage might seem to be more independence, the opposite effect might occur. Living alone can restrict seniors more than living in a community. Often times seniors aren't able to drive as easily, prepare the meals they want, or even upkeep proper hygiene.
If seniors have an accident while living alone, it could be days before anyone discovers what happened. In assisted living facilities, seniors won't have to worry about safety risks that they would if they were living alone.
Many seniors suffer loneliness when they live alone. They don't have daily activities to enjoy or new friends to meet. When seniors choose to live at home, it's crucial that they maintain as much social interaction and daily activity variation to keep them stimulated and optimistic.
Benefits of assisted living
Seniors won't have to worry about having accidents or needing extra care they aren't able to access. By moving to an assisted living home, seniors are able to feel cozy and safe throughout all hours of the day and night.
New friends and less boredom
Depression and anxiety are major issues in the senior community, and feeling lonely will only perpetuate those feelings. By living in a community, seniors have access to new friends, daily games and activities, and overall more fun to keep the positive energy flowing.
In fact, there's hardly any work at all when choosing to move to an assisted living community. By freeing themselves of the daily chores of living alone, seniors can focus on having fun and spending time doing the things that bring them joy. Say goodbye to chores and yard work!
Disadvantages of assisted living
Perceived loss of privacy
While privacy isn't lost when moving to an assisted living facility, sometimes it can feel that way at first. Seniors aren't always accustomed to having roommates across the hall or staff checking in on them. While they still are able to achieve the level of privacy they desire, it can be a difficult transition for some.
Risk of choosing improper facility
Some seniors need memory care, while others need a little extra help with daily activities. Some seniors want extravagant apartments and dining rooms, while other seniors prioritize an expert staff over the facility itself. Some communities impose strict policies while others hardly enforce any rules. There are many different factors when choosing the right home, and it's important that seniors take their time when choosing the community that's right for them.
Adjustment to group atmosphere with policies
While there are different communities that range in policies and rules, any community will have more restriction than living alone. By choosing to live in a community, seniors will need to adjust to group living and policies that they might not be used to prior to this.
If you're feeling like assisted living might be the best option for you or your loved one but are unsure, call The Waterford today to chat more about the benefits of memory care and assisted living. It's crucial to not only find a facility that provides all the services needed, but the right amount of comfort as well. We're here to help, and are excited to begin this journey with you and your loved ones!