Living at College View
Our third property feature is our neighborhood community of College View. We are thrilled to have residents of all walks of life and even life stages. College View has a neighborhood feel, tucked into the Union College area of Lincoln. Some additional features include:
Cozy indoor spaces
3 daily meals plus healthy snacks
Therapeutic whirlpool bath
Beauty and barbershop
Daily activities and exercise
Weekly housekeeping & laundry services
Enclosed patio space
Wi-Fi
Cable Television
Emergency call system
24‐hour staff
Always‐welcome, open‐door family policy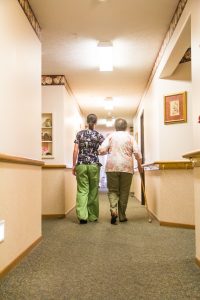 We provide a home‐like atmosphere and environment for your loved one, which includes a long list of amenities and activities. But most importantly, and the reason we receive consistently high ratings, is the team of professionals that serve and support our residents.
Each member of our team is carefully selected and trained in our culture and beliefs. Team members must adopt our "servant heart" culture.
Servanthood requires a mental shift – focusing on others rather than yourself. Our team members think about their responsibilities and their duty to fulfill the promise we made to make you feel at home.
For more information about College View, visit the College View page on our website, where you'll also find a virtual tour.